Professionalism and the Georgia Court Reopening Guide CLE
Sponsored by the Chief Justice's Commission on Professionalism
Thank you to the Staff of the Administrative Office of the Courts for their support of this CLE!
CLE EVALUATION
Background Information and Materials
Judicial COVID-19 Task Force Panel Materials
As a hallmark of professionalism, please remember to regularly check for changes to rules related to the legal profession, here: https://www.gasupreme.us/rules/
Well Being Panel Material
Additional Resources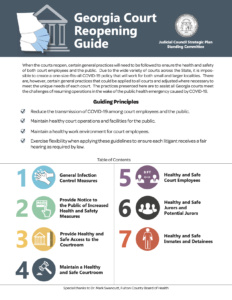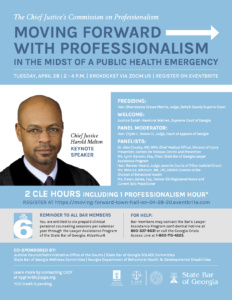 Resources from Moving Forward with Professionalism
On April 28, 2020, the Commission convened a CLE entitled Moving Forward with Professionalism In the Midst of A Public Health Emergency.  The written materials contain numerous resources of value to attorneys and their clients.  To view the written materials, click here.